I think everyone likes eridan just a bit more tonight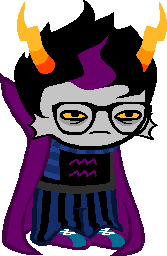 hot topic homestuck idea
reblog if you pronounce eridan as "AIR-ih-dan"
these are fun! sister post
REBLOG THIS IF YOU LIKE ERIDAN AMPORA.
This can range from "yeah i like him" to obsessive fangirl love.  I'm trying to prove a point to a friend, so please reblog! Here is this post's opposite!
wait where are Eridan's horns??????
((YOU GUYS))
((I WAS LOOKING AT THE ANIMATION OF ERIDAN DANCING, AND I LOOKED AT ALL THE FRAMES TOGETHER, AND I'M)) ((IT LOOKS LIKE A FUCKIGN BOYBAND I FEEL THREATENED HELP))
so lets just recap this update john potentially has the ring of life one of the ghosts will probably be brought back to life with said ring eridan possibly knows how to kill cherubs eridan has one finger without a ring on it ERIDAN HAS ONE FINGER WITHOUT A FUCKING RING ON IT
The end is nyeh
Topless Tuesday
homestuck au where everything is the same but eridan doesnt have purple in his hair