Fishy things surrounding Rory Williams
Okay, I'm not going to say he's the Master as many people are doing, since that theory has been thrown about since 2005 for every male character, and it's getting a little boring. So lets ignore that theory for a moment. Here's a list of things that don't quite add up about Mr. Pond.
1. The hospital identity card.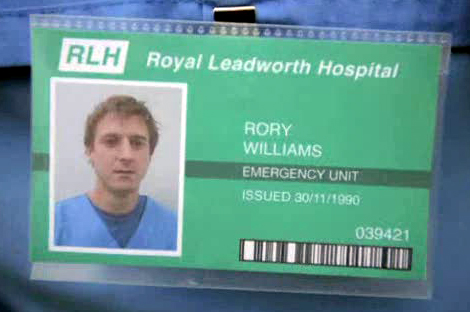 Issued around 20 years before the events of 'The Eleventh Hour'. This has been covered a lot of times before, so I won't go into too much detail. While this has been covered many times before, and Moffat has even claimed himself that it's just a production error- Moffat lies.

2. He keeps dying!
Seriously, we all know about this. Obviously there's been a memo sent to a lot of writers telling them to find a way to kill off Rory. Why? Just a joke? Just a co-incidence? I think it could be something more.
3. The God Complex Oddities
Rory is the only person in the 'hotel' who doesn't have a room. He's also the only person in the hotel who sees an exit, even if for a moment. It's skimmed over, but it's there. Also, more interestingly I think- there's the moment of confusion between him and the Doctor. The Doctor asks Rory why he doesn't have a room. Rory replies something along the lines of: "All that time spent travelling with you in the TARDIS, what was left to be afraid of?". The Doctor replies: "You said that in the past tense." Rory looks confused for a moment, stuttering, denying that he did. The Doctor then looks at Rory for a moment, in quite an odd way, like he's sizing him up. Has Rory perhaps travelled with the Doctor before?
4. Let's Kill Hitler! (Or just lock him in a cupboard)
River Song regenerates infront of Amy and Rory, and as they all recover from the shock of seeing Mel transform into River, Rory complains of "a banging in [his] head". (This does point to the Master, admittedly- the sound of drums).
5. River's conception
Melody Pond is part time-lord. She even has the ability to regenerate. From what we've seen with part-time lords, is that they're not that easy to create, and when they are created, they're even harder to give the ability to regenerate. According to "A Good Man Goes To War", she was given her Time Lord side because she was conceived while the TARDIS was in mid-flight. Now I'm not too up on companion relations in the TARDIS, but would this really be enough to create a part time lord with the ability to regenerate?
6. And finally, Asylum Of The Daleks
Most interestingly in my opinion, is when Oswin asks Rory his name after he just escapes the Daleks- he can't remember it. Seriously- how could he have forgotten his own name? That's not just a throw away line! Moffat doesn't put in lines like that for no reason. 
So… that's what we know about Rory. He's not all he seems, that's for sure. I think these 5 episodes will reveal something about Mr. Pond/Williams we'll be surprised (or not) to hear.